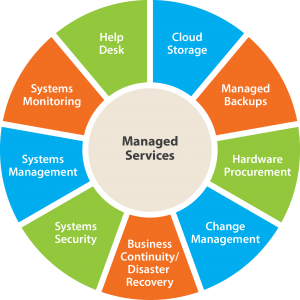 Managed Workstations/Laptops/ Tablets/Mobile Devices/ChromeOS
Managed Service ensures that devices are secure from virus and worm threats and are optimized for day-to-day operations. We help maximize employee productivity and minimize outside threats to network resources and data caused by any malicious attempts caused by normal activities such as web-surfing, email attachments or nefarious hacking, rouge employees/contractors, network penetration attempts, etc.
Helpdesk Support and Remote Monitoring Solutions
LANTECH offers continual infrastructure monitoring of all critical components. Our helpdesk works to correct any challenges that may occur.
---
"Our office of about 25 people was in need of network and phone upgrades. Unfortunately, our documentation had become outdated and was seriously lacking. LANTECH came in and provided a complete assessment of our situation with various alternatives. They completed the work and gave us a fully updated set of documentation. Subsequently, we had the team conduct some of the suggested upgrades and compliance issues which have made our team much more productive. We thank the team at LANTECH and look forward to having them back for any future IT needs."
---
– Jeff Wilson, Zepol Inc.
Comprehensive day-to-day IT management responsibility as a cost-effective, strategic method for improving operations, utilizing scaling solutions to provide precision tuning to your business needs at a fixed cost that is sensitive to your budgetary constraints.
Device Provisioning

Security Planning & Disaster Recovery

Architecture Assessment

Data Migrations

Remote Management and Monitoring

Asset Management and Documentation