Backed by dedicated team who manages the entire experience, from an organization's camera system, to ongoing upgrades and maintenance, to support and training for users.
The main reasons of a jobsite ip based camera system are the ability to connect over the internet, provide safety to the workers and the company, enhance worksite security with 24/7 access, video and audio recording capabilities, documentation for law-enforcement and insurance personnel should an incident occur.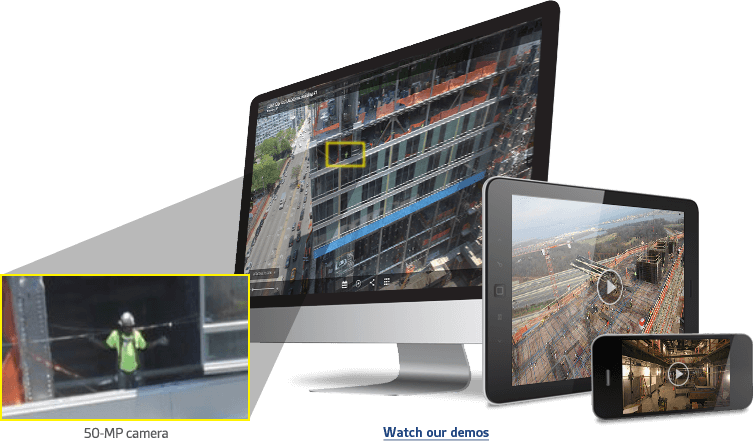 ---
"The LANTECH team know-how in the assessment of our needs based on our site really outlined the vast experience of the team.
They allowed our company to easily access our jobsite with 24 hr video monitoring with their simple solution. We now have the flexibility and accessibility anywhere we go. Their guidance made the transition easy and affordable."
---
– Leah P, CEO leading residential development firm
---
Jobsite Safety & Security
IP based camera services bundles together a variety of easy-to-use technologies – keeping your workers safe – while maintaining survience and security restricting access from unwanted intruders – and providing tools for law enforcement and insurance.
Users can access 24/7, record, provide video access to and from whenever, wherever, on the device of their choice
Challenges of Traditional Video Surveillance
Learn how IP camera video surveillance solves these pain points.
More Cost-Effective Conventional video surveillance environments require security personnel to spend many hours watching live or recorded video to analyze/identify suspicious events. By contrast, our systems can scan many thousands of hours of video data without human intervention. Should the system encounter questionable activity, it can automatically notify security personnel for further investigation. By increasing the number of video streams that can be handled by each security team member, our systems can significantly cut personnel costs. In addition, freeing up more personnel to conduct key non-monitoring tasks.
More Accurate A variety of tests have shown that humans lose anywhere from 50% to 90% of their visual perceptivity after 20 minutes of continuous video monitoring. The more video streams a person is required to monitor in a given period, the sooner impairments in visual perception manifest themselves. By contrast, intelligent systems are immune to the fatigue, distractions and memory lapses that plague human beings. Live and recorded video review and analysis systems continuously scour video images for user-selected behaviors and patterns (unauthorized persons, license plates, unattended items, etc.), while ignoring the extraneous data that leads human monitors to generate false alarms.
More Scalable Security environments are dynamic, changing both in size and character as a business grows. Thus any video surveillance solution must be able to scale and adapt as needs dictate. With a conventional security system that means hiring and training more personnel to monitor any additional camera streams, a costly and time-consuming process. Our video surveillance systems make expanding a company's video surveillance area literally a snap; simply plug in more cameras and the system's intelligent video software immediately goes to work monitoring and analyzing the newly-added video data. Scalability is effectively unlimited—simply deploy more cameras to add additional coverage areas.
Cloud IP Camera Package Includes
24/7 access

Internet Access

Affordable Solutions

Business Security

Network Management

Voice & Video Recording